Creating Meaningful Connection with Grandparents from Afar
Our chair shares some creative ideas for involving grandparents in childcare from afar.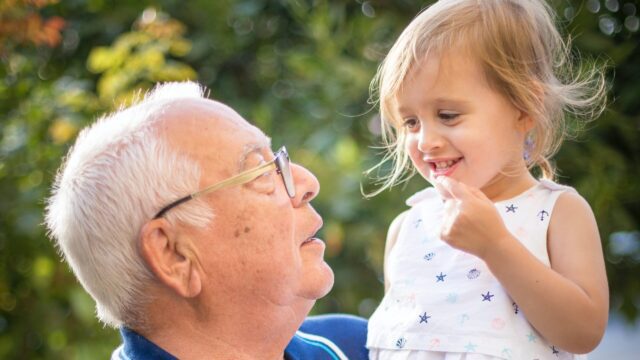 Leora Kuttner, PhD,
April 4, 2020
Parenting during a pandemic is ridiculously challenging, and that might be one of the larger understatements of all time. We can't even refer back to all those other times we've had to parent like this, because well, it hasn't happened in the last hundred years…for anyone! Making it even more stressful is the loss of our usual support systems, whether that be day care, school, playdates or grandparents.
For many families, missing that interaction with grandparents might be compounded by fears over their mental and physical health. While staying apart helps keep the older, higher risk generation safe, it can also lead to growing feelings of isolation and an unfulfilled need to be useful.
In a time of physical distancing, social connection becomes more important on all levels. Finding ways to virtually connect your children to their grandparents can help solve a stressor on everyone's list. For your children, it facilitates connection to a world outside your home. For the grandparents, it helps them feel connected and useful. For you, it could mean a valuable hour of childcare and parenting support.
Connecting with Grandparents from Afar
Here are a few tips to help get the maximum benefit of digital connection–and help ensure both your parents and your children want to repeat it!
1. Do a Test Run
Practice with both your kids and your parents separately to help minimize technology frustrations and the need for your interference when they connect.
2. Provide Structure
Specificity and structure create meaning. Instead of sitting your kid in front of a laptop and telling them to, "Say 'hi' to Grandma!" (a scenario that will likely have them wandering back to you in about 3 minutes), come up with an age-appropriate plan ahead of time to keep both parties engaged in the conversation.
For children under 6, maybe the grandparents can sing a song or read a favorite book. For school-aged children, consider leaning on your parents to provide some educational value on a topic that your child is interested in. "School in the Air" is a model my brother's family came up with to help our parents engage with his 6 and 9-year-old daughters. You can read more about it below.
3. Create Routine
The biggest benefit to your whole family will come from the repetition of this experience. Whether it's 30 minutes twice a week for younger children or an hour every day like my New Zealand family, the routine of this interaction can amplify the meaning of the interaction for your children and parents and provide you with consistent childcare support.
School in the Air
School in the Air is the creative solution my New Zealand family came up with to help facilitate this connection. Here, I share more of the details of this program in case they help spark inspiration for your own family.
Grandparents are a great source of knowledge. In self-isolation, they want to feel useful, not isolated. Partaking in grandchildren's lives, through creative projects, yet staying safe, gives great opportunity for joyful contact and real connection.
For Parents, with the chaos of kids at home all day, having the predictable times in the day for 'School in the Air' gives a reliable time out, and time to get something done.
For children, Annie and Alice find reassurance in seeing their Grandad and Nona every day.
Every day at 9am, 6 year old Annie and 9 year old Alice get an hour separately with one grandparent on a subject chosen only by the children. Each in turn sits at the desk with the computer and their writing book open with pencils and crayons. At the end of each day's lesson, the children share a new topic they'd like to learn about and the grandparents get a day to prepare the lesson.
For Alice, one of the first lessons she wanted to learn was what happens to food. Grandad prepared a lesson on the digestive system complete with diagrams and walked Alice through the process by following the journey of a banana she ate during their discussion.
Grandad: I learned to have materials on the topic on hand but not be bonded to my agenda, as I quickly learned it destroyed the joy of the discovery with each other. The point was to have fun together, so I learned to go where they wanted to go. We ended with Alice writing an essay about what happened to the banana. She also drew the human body, colored it in and sent it to me. I was in no way limited by not being next to her.
Tomorrow, Nona will give Alice a lesson on grammar. She'll discuss what is an adjective. How does it help a noun? For Annie, she'll read a book of Annie's choosing and then have Annie read it to her.
Next Science lesson? They want to learn about Space. But Grandad plans to start with a short revision on 'what happens to food' to see how much each child remembers!
Here are two more ideas to support this program:
Order copies from Amazon of your Children's reading books to be sent to Grandparents. They can read to the children and/or the children can read to them. They can discuss the pictures, the story and the meaning of it all.
Mail: Send letters to grandparents; write up grandparents' address on an envelope, affix a stamp and walk to the nearby mailbox to post. It is an old- fashioned, timeless experience.
For more expert vetted, trustworthy resources to support you and your family during this unprecedented time, check out our COVID-19 Resource page.
You May Also Be Interested In

About the Author
Leora Kuttner, Ph.D. has followed her passion to understand and relieve pain for 39 years. She is a Clinical Psychologist, Clinical Professor of Pediatrics at University of British Columbia at BC Children's Hospital, Vancouver, Canada, and a documentary filmmaker, creating five award winning films on children's pain. She pioneered work in pediatric pain-relief, using methods such as hypnosis for children, has written two books, published journal articles and teaches world-wide. Leora won The Woman of Distinction in Vancouver, the Outstanding Alumni for Professional Achievement from Simon Fraser University, The American Pain Society's Jeffrey Lawson Award on Advocacy for Children's Pain Relief and in 2014 the ASCH William C. Wester Award for Excellence in Child Hypnosis. Above all, Leora loves children!
www.drleorakuttner.com