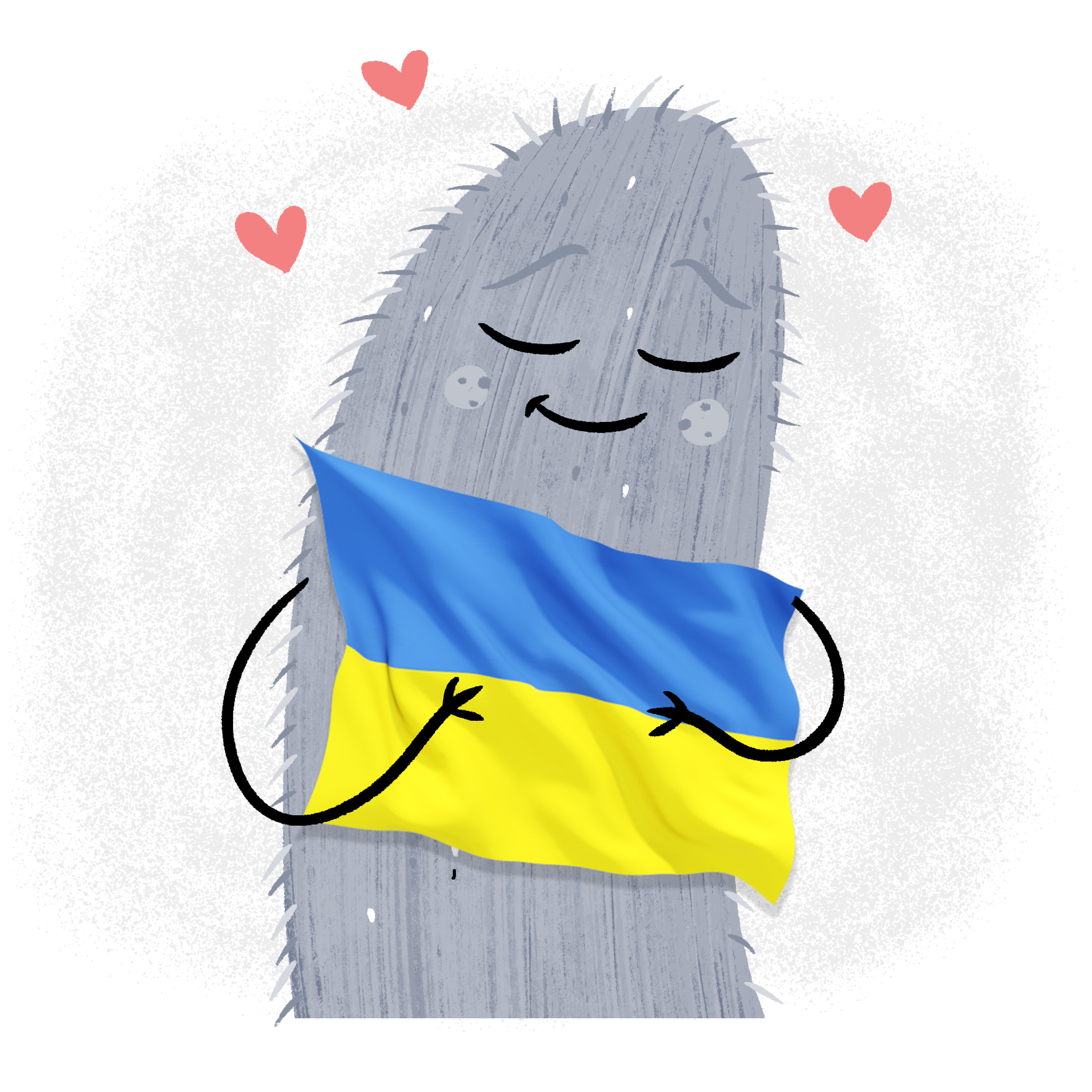 Pain Relief Toolkit for Those Affected By the War In Ukraine
We want to do all we can to support those affected by war. We collaborated with the Ukraine based organization Family Circle to create training materials and resources for providers serving Ukrainian kids and families.
Doing what we can to help.
It is difficult for most of us who are lucky enough to live in safe places unaffected by war to fathom what it is like for those living in a war zone. The stress, anxiety, fear, and constant threats to physical and emotional safety are difficult to comprehend. Children and families in the Ukraine and in refugee camps are experiencing ongoing trauma. This puts them at even higher risk for more intense pain experiences, both as a result of a physical injury and also without obvious physical damage. Things like headaches, stomaches, and body pain are all a normal result of ongoing stress.
Family Circle is a Ukraine based charity organization that focuses on supporting families and helping them foster resilience in response to war. When their team asked if we could help to train providers in the Ukraine to help children with chronic pain, we jumped at the chance to be of service.
This page represents our efforts to put useful tools in hands of those who need them as quickly and efficiently as possible. These tools, all in Ukrainian, can be used by anyone: kids, families, providers, anyone who wants to help bring comfort and relieve pain. They empower families to have a way to understand and cope with pain experiences. They were designed knowing the high likelihood that these families have limited access to resources and potentially highly stressful living conditions.
Start here
As part of the collaboration with Family Circle, our founder and CEO, clinical psychologist Dr. Jody Thomas taught a webinar on using these resources to support children and families dealing with chronic pain. It was conducted in English, with simultaneous translation into Ukrainian.
---
Three Parts
Understanding the theory of pain is important, but it isn't necessarily helpful for people dealing with pain and stress unless it's accompanied by concrete tools to put that theory into action. These tools are designed to do both. They give kids and families something they can DO to bring comfort and calm. All of them have been translated into Ukrainian but also are available in English.
A downloadable handout explaining pain and coping skills
Video explaining why and how to use self-hypnosis audio recordings
Self-hypnosis audio recordings (developed by top experts) to address pain experiences
1) READ: Understanding Pain: A Guide In Ukrainian
To control something, we need to understand how it works. This downloadable handout explains the basics of how pain works, and the many ways we can bring ourselves relief and comfort. It can be used by medical providers to help explain to patients their pain experience and treatment options, or by patients and families themselves to explore strategies on their own.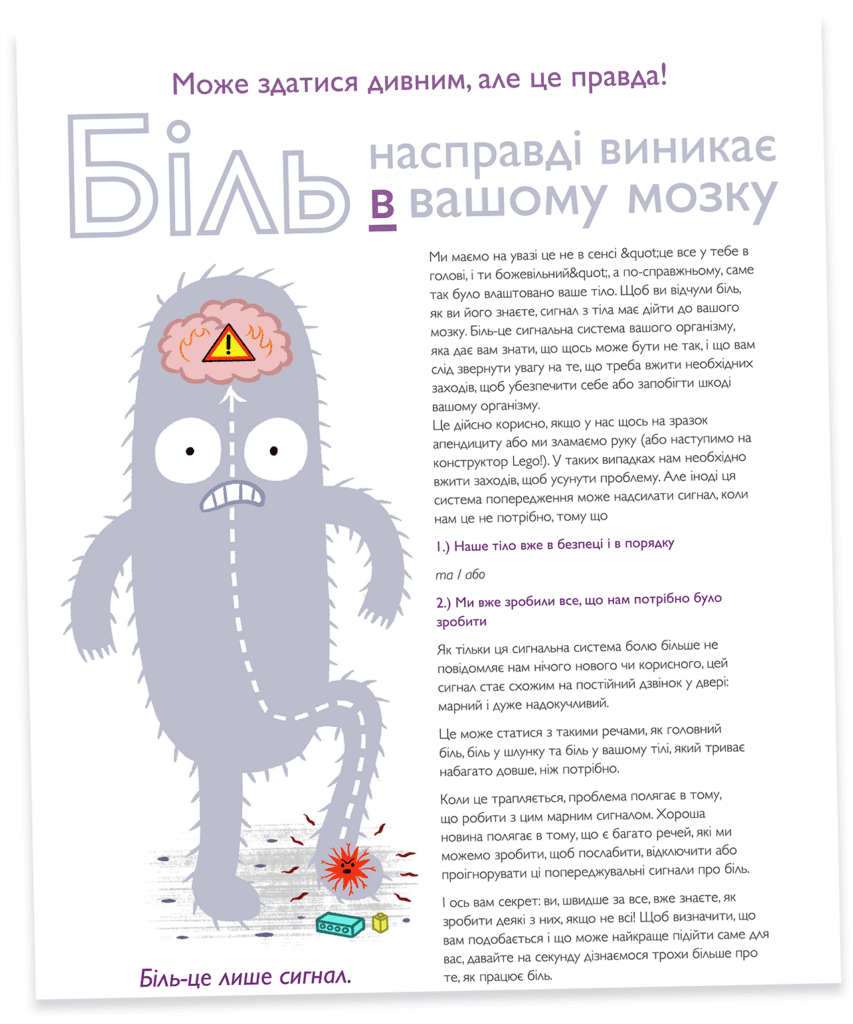 Using simple language and visual metaphors, we break down how pain happens in the brain, and that the experience of pain has three parts: biological, psychological, and social. Understanding each of these three parts is really powerful because it opens up many possibilities for making things feel a lot better. The handout outlines how anyone can use this information to help themselves with any pain…from a little stubbed toe to headaches and stomachaches to major injuries.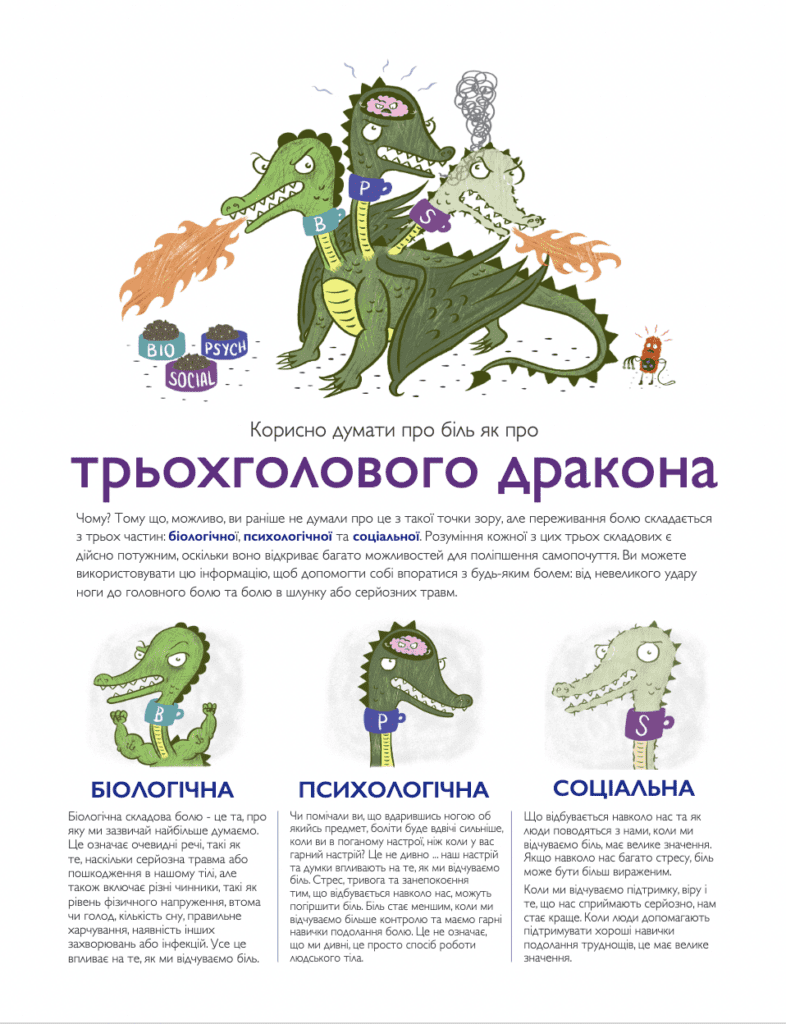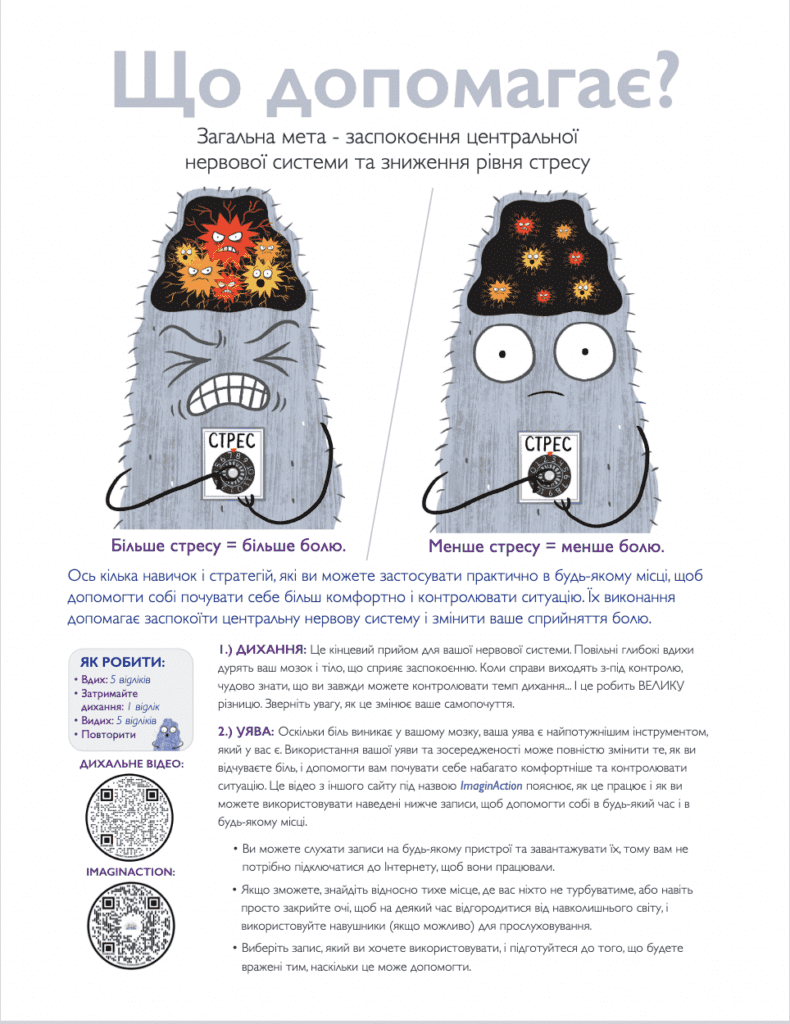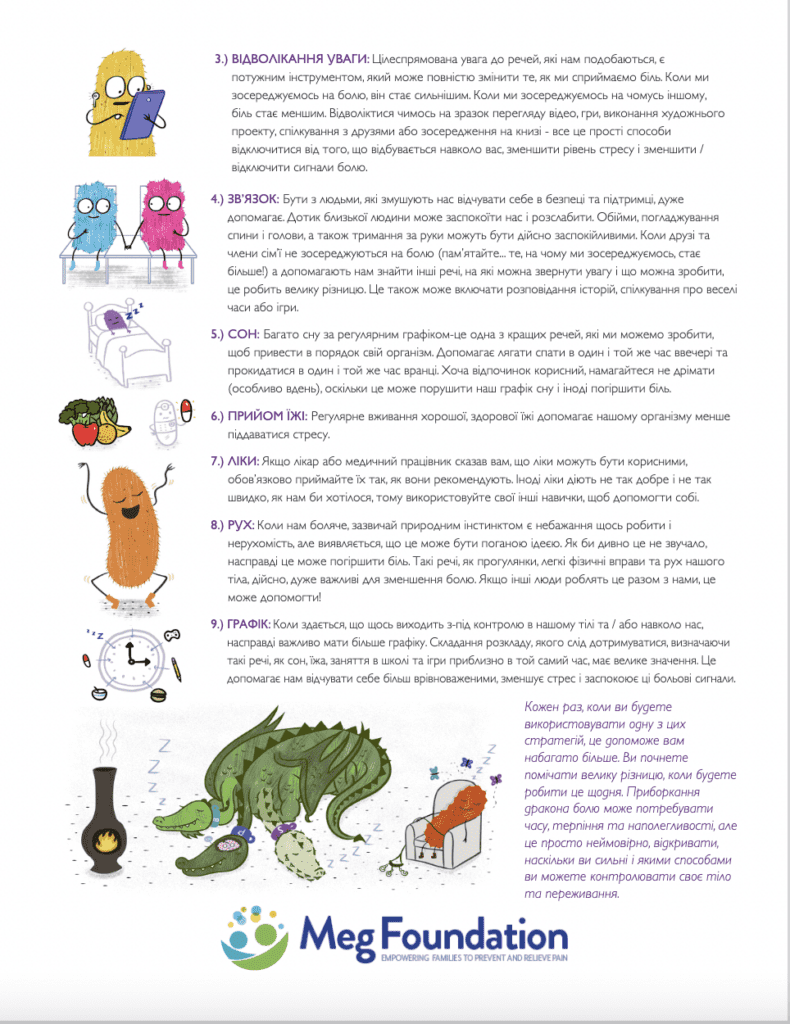 2) WATCH: Video resource introducing how you can use the power of your imagination to comfort and calm
Since pain happens in your brain, your imagination is one of the most powerful tools you have to bring comfort. The research is clear: using imagination and focus of attention (also known as self-hypnosis) can totally transform the pain experience and help everyone feel much more comfortable and in control.
This video is from a different website (also developed by our experts) called ImaginAction. It explains how this works and how you can use the recordings below to help yourself feel better and more in control at any time and in any place. While the visuals of the video don't completely match the content below because it was originally designed for a different site, the message is the same and very useful. The video is an easy, accessible way to help parents and kids understand how they can use this powerful tool to help themselves whenever and wherever they need it.
To download the video for use offline, click on the three dot icon on the video player to the right. You can watch it on YouTube here. To check out the English language version, you can find it here.
Thanks to Mentality Creative for their work on bringing this translation to life, and to Booster Shot Media for their incredible work creating this video.
3) LISTEN: Ukrainian language self-hypnosis recordings
The content of the recordings below was developed by top experts in pediatric hypnosis. It's based on the latest in scientific research, and the English version has been used extensively and successfully by tens of thousands of users on the English language site Imaginaction, from Stanford Children's Health.
The translations and recordings in Ukrainian were produced in collaboration with Voice4Comfort, and you can find even more great hypnosis content on their website. Voice4Comfort is a nonprofit collaboration of top world experts in the world on hypnosis and translators and Ukrainian supporters.
We know that many people who can benefit from the recordings may not have consistent access to the internet. To help with this issue, all of the files can be downloaded for offline use. To download, click on the three dots on the right side of each recording and click download.
---
Anywhere and anytime: Feeling better when something hurts
Helpful for pain that is happening at any time.
---
Using your imagination to help comfort: Taking a ride on a magic carpet
One of three options for distraction and comfort for medical procedures or other experience of pain.
---
---
Creating comfort when pain has been around for a long time
This was designed specifically for what we call chronic pain.
---
Using your imagination to help comfort: Traveling to your favorite place
One of three options for distraction and comfort for medical procedures or other experience of pain.
---
---
Intro to procedural pain: needle pokes and stuff
Introduction to how you can use this tool to help during medical procedures.
---
Using your imagination to help comfort: Playing a video game In your mind
One of three options for distraction and comfort for medical procedures or other experience of pain.
---
Working together and supporting each other

One of our core beliefs at the Meg Foundation is that we are all here to support the good work of others: we get farther together than we ever could alone. We believe it is our obligation to eliminate human suffering whenever we see the opportunity. This project came about because of amazing people and organizations that think the same way.
We are honored to partner with and commend the incredible work of the Family Circle, the Ukraine based charity organization. Their strategic goals are fostering resilience in response to war, creating accessible services for all children in need, development of support programs for parents, and education and innovation. Their tireless efforts to improve the lives of families and children is captured in the quote by Metropolitan Andrei Sheptytsky they share on their website: "Not by a stream of noisy and boisterous words, but by quiet, tireless daily work…"
We also have deep gratitude for Dr. Robert Nickel, who brought us together. He heads a Ukrainian American planning group that partners with Family Circle. Planning group members include child psychiatrists, a developmental pediatrician, psychologists, special educators, a speech pathologist, faculty of a university counseling program, and parents of children with autism, both Ukrainian and Ukrainian American. Their goal has been to present evidence-based information from the international community by speakers who are recognized experts in their area of interest.
Their group organized and conducted yearly workshops in Ukraine before the Covid pandemic provided virtual training during the pandemic, and since Russia's war on Ukraine, has organized virtual workshops through YouTube focused on supporting families and children coping with the challenges of war. The audience for these presentations includes pediatricians, child psychiatrists, other health professionals, psychologists, other mental health professionals, teachers, and students from all over Ukraine. From their first teaching trip in 2016, composed of a small group of health professionals from Oregon, to now virtual teachings and resources from experts worldwide, it's incredible to think about the impact they've had.
We could not have done the project without the team behind Voice4Comfort. Carla Frankenhuis spearheads this effort with support from her team Skills4Comfort. We want to express our huge appreciation for the translators and voices behind the Ukrainian recordings, Alyona Skalka and Olha Holovata.
Questions? Comments? Want to be more involved? Reach out to us at info@megfoundationforpain.org!
Interested in helping with the Ukraine planning group? Reach out to Dr. Robert Nickel at nickelr@ohsu.edu.
Want to support the incredible work of Family Circle? Connect with them through their website.
---
You May Also Be Interested In
---

Interested in helping us help even more people by putting our science backed resources out in the world? We need amazing people like you!  Consider donating today!
Donate