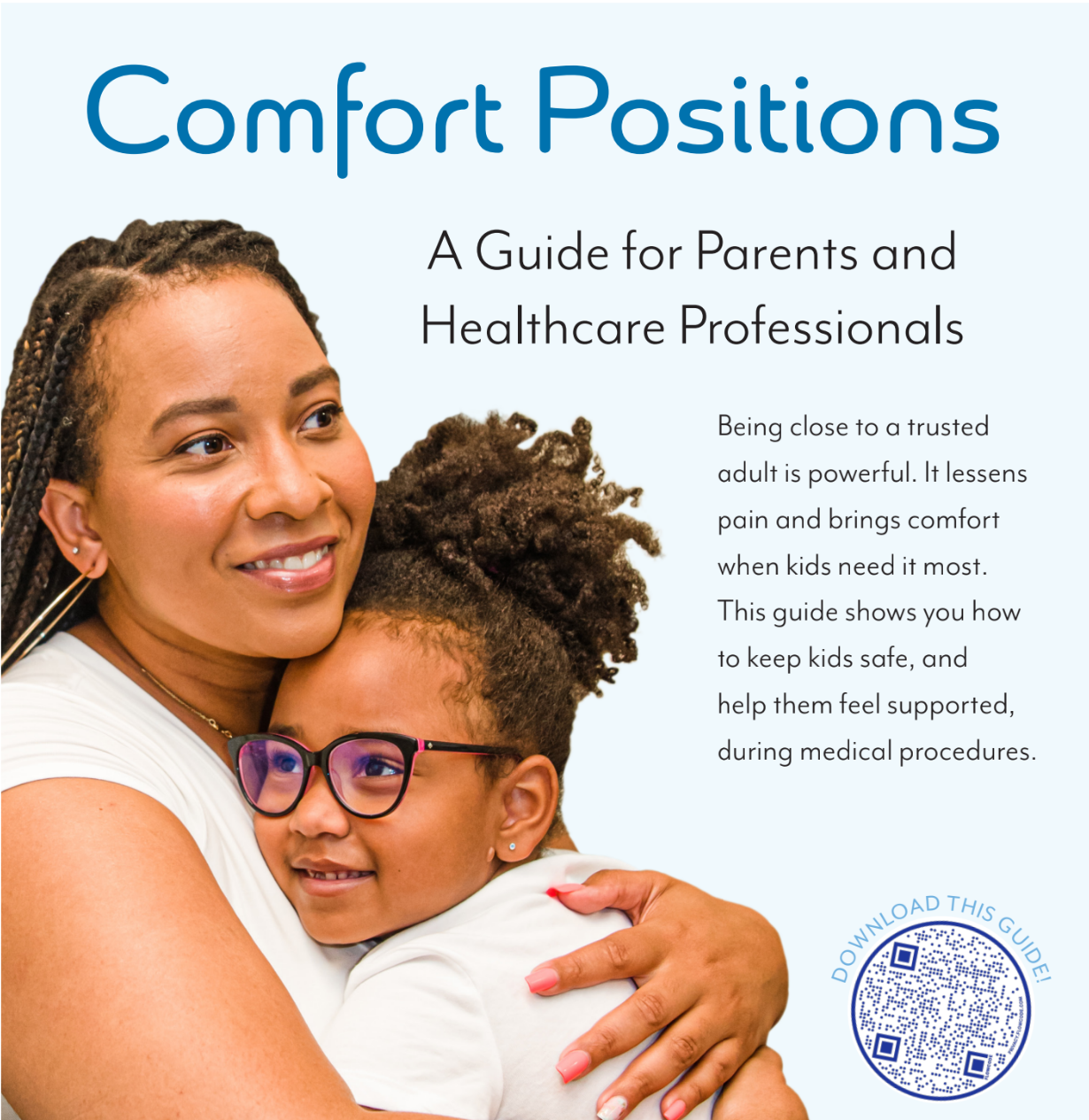 Comfort Positions: A Guide for Parents and Healthcare Professionals
Kids should never be held down for medical procedures, but we need to make sure they are safe. Being close to a trusted adult is a powerful way to lessen pain and brings comfort when kids need it most. This guide shows you how to keep kids safe and comfortable during medical procedures.
About this Resource
This guide is a collaboration with our wonderful friends at Child Life On Call.
Providers asked and we answered…they wanted more detail and break down on the specific how to's of using comfort positioning to keep kids safe and supported during medical procedures. With super helpful photography and step-by-step instructions, this guide helps parents, caregivers, and medical providers understand how they can prevent medical trauma and bring more comfort and calm to everyone involved in kids' medical procedures.
How to Use
FOR PARENTS:
Before the procedure, flip or scroll through the guide to find the comfort position that makes the most sense for you, your child, and the medical procedure that is about to happen. You'll notice that there are little icons beside each position that can guide you about what might be most useful for different medical procedures.
If your child is old enough, have them choose the position they want to do. Choice is power, so giving them a voice helps them feel more involved and powerful.
Practice the position BEFORE the procedure before pressure and anxiety get thrown into the mix. Do it at home if you can, or even in the procedure room. Knowing what is going to happen, and reminding kids you'll be there with them the whole time, helps everyone feel better from the start.
FOR PROVIDERS:
Review the guide to make sure you feel confident about how to use each position, and how you can coach parents through each position.
Make the guide available to your patients and families as soon as possible before the procedure. You can send a link to a digital copy along with appointment reminder emails and texts. When people come in prepped, we set the stage for success. You can also make the guide available on your website.
Practice the positioning BEFORE you are doing the needle poke or procedure. Doing a quick dry run without the pressure for you or the family helps everyone feel more prepped and calm. Taking that extra minute can save a lot of time in the long run.
For more info, check out our Provider Kit!
Who is this for
Parents, caregivers, and medical providers.
You May Also Be Interested In