Meet SuperMeg, Our New Interactive Chatbot That Helps Kids Manage the Anxiety and Pain of Needle Pokes!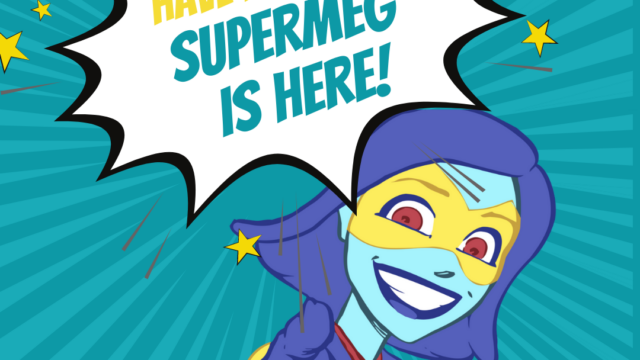 Just in time for flu season, the Meg Foundation just launched a cool new interactive tool to help kids feel better about needle pokes! Developed by top experts in pediatric pain management and supported by the best practice guidelines of nearly every pediatric medical organization in the world, this new chatbot, named SuperMeg, guides kids to create a customized plan to manage the anxiety and prevent the pain kids can have around medical procedures. SuperMeg empowers your child to have more control over their feelings, their body and their experience. It literally puts the power where it should be: in kids' hands!
The common freak outs over needle pokes are a big problem, and have impact long after those hard minutes at the doctor's office (and, let's be real…often in the car on the way there!). According to The World Health Organization, and decades of research, far too many children experience significant fear associated with needle pokes that can lead to a delay or a complete avoidance in getting necessary healthcare throughout their lifetime. By giving kids the skills and tools they need, we can prevent the tears now, and the big problems later, setting kids up with for a lifetime of good health. SuperMeg does just that by providing the information, skills and tools they (and you) need to feel confident and comfortable when facing needle pokes! They learn about research-based strategies like topical anesthetics, distraction, vibration, belly breathing, comfort positioning, and taking advantage of their natural ability to use their imagination.
Once your child finishes their chat with SuperMeg, their customized plan is emailed to you, the parent. That email will includes all the information, resources, and tools you need to make that plan a reality. This means a much better experience for them, and for you! We invite your child to get to know SuperMeg, and learn how to be a pain champion! Visit https://www.megfoundationforpain.org/supermeg to get them started.
Dr. Jody Thomas is a pediatric health psychologist, an internationally recognized expert in pain and pediatric health, and the founder and executive director of the Meg Foundation. She's also a mom of two known for her fierce sense of justice and inability to stay quiet.